Roll forming is rolling long strips of metal (usually rolled steel) which is continuously bent to the desired cross section. The metal plate passes through sets of rollers mounted on a continuous rack, each of which performs only the incremental portion of the bending until the desired cross section (profile) is obtained. Roll forming is the ideal choice to produce long size, large quantity constant contour part
Various cross section profiles can be produced, but each profile requires an elaborate set of rolling tools. The design of the roll begins with a flower pattern, which is the sequence of profile cross sections, and each roll frame has a profile. Then, the volume contour is derived from the pattern contour. Due to the high cost of roll sets, computer simulations are often used to develop or validate roll designs and optimize the forming process to minimize the number of frames and material stresses in the final product.

Rolled profiles may have advantages over extruded profiles of similar shapes. Roller parts may be much lighter, the support may be thinner than the extrusion process, and parts hardened in cold conditions may be much stronger. Parts can be made with finish surface or already painted. In addition, the roller forming process is faster and uses less energy than extrusion.
The same roll can be used to produce roll forming machines of different sizes and material thicknesses. Through manual adjustment or computer control to make the distance between the rollers variable, you can achieve a change in size, so as to achieve rapid conversion. These specialized mills are common in the photometer frame industry, where metal studs and tracks with standardized contours and thicknesses are used.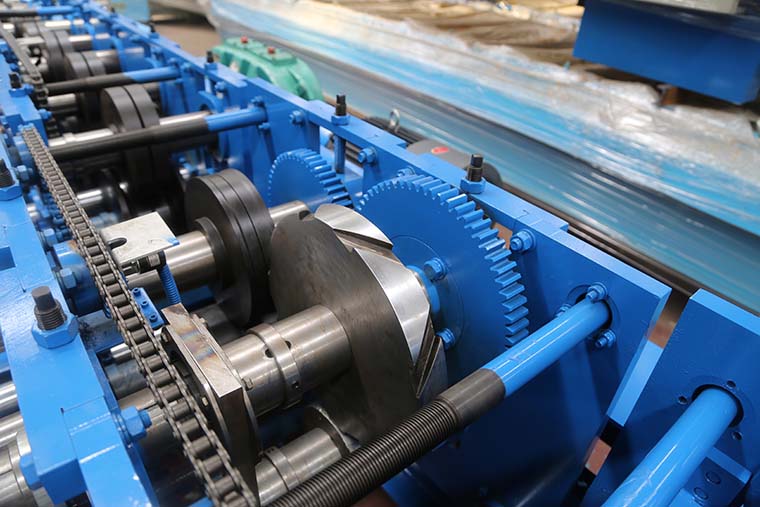 The rolling line can be set up in a variety of configurations to punch and cut parts in continuous operation. To cut parts to be a certain length, the production line can be set up to use either a pre-cut, where a single blank cutter through the mill, or a post-cut, where the profile is cut during the molding process. Features can be added in the form of holes, notches, embossing, or shearing by punching on the roll forming line.

In recent years, as an important structural part, cold-formed steel products have been widely used in many fields such as construction, automobile manufacturing, shipbuilding, electronic industry and machinery manufacturing. Its products from ordinary guide rail, doors and windows and other structural parts to a number of special purpose and the manufacture of special profiles, the type is very wide. The section performance of cold-formed steel per unit weight is better than that of hot-rolled steel products, and it has high surface finish and dimensional accuracy. Therefore, cold-formed steel can replace hot-rolled steel to achieve the dual effect of saving both steel and energy, so people pay great attention to the development of cold-formed steel. It is the constant demand of customers for the varieties, specifications and quality of cold-formed steel products that drives the rapid development of cold-formed forming technology.
What roll forming machine manufacturers shall do?
As a roll forming machine manufacturer, we should not only keep up with the pace of the times and use advanced technology, such as computer technology, to solve some problems in cold roll forming, but also pay attention to the accumulation of experience in long-term production practice and constantly improve our own technology. With a target of the perspective of the customer to make humanized design, do high quality, automatic roll forming equipment.