Continuous PU Sandwich Panel Production Line
Continuous PU Sandwich Panel Production Line is a special machine for producing the different kinds of sandwich panels, such as roof sandwich panels, wall sandwich panels, cold storage room wall sandwich panels…
It mainly consists of the following parts: uncoiling system, roll forming machines, pre-heating oven, foam injection machine, double belt laminator, double belt laminator heating system, cutting system, cooling system, stacking system, packing system, etc.
The product of Continuous PU Sandwich Panel Production Line is a new type building material, which has the function such as good flame retarding, keep warm, heat insulation, sound insulation, waterproof, handiness, environmental protection and so on. It is widely applied in protection and decoration of outside wall for tall building and factory.
Special sizes of sandwich panel can be designed in our company. The machine can be customized based on the customer's specific technical requirements.
Continuous PU Sandwich Panel Production Line can do roof sandwich panel, wall sandwich panel. Special sizes of profiles can be designed in our company.
Layout drawing of Continuous PU Sandwich Panel Production Line (for reference)
Work Flow
Feeding coil ------- uncoiling material -------- Film covering (cutting) -------- edge slitting -------- Roll forming ------- Preheating material ------- mixed Foaming/glue spraying ------ Laminating in double belt conveyor ------- Cutting product ------ Run out conveyor -------- Cooling ----------Automatic stacking product--------packing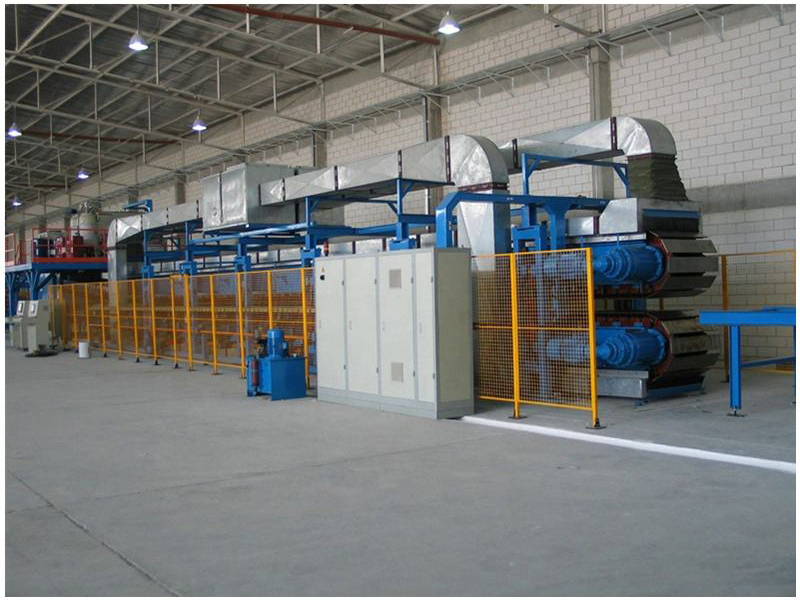 High Precision Roll Forming System
Roller Material adopts High grade No.45 steel with quenched treatment, with digital-controlled procession, painted with hard chrome. Shaft Material adopts high grade No.45 carbon steel which can improve the integrated mechanic feature of the shaft. The roller shafts adopt standing column type.
The roll forming machine can be moved in or out of the production line to switch different profile.
High Quality Double belt Laminator

Double belt Laminator
is mainly used to overcome the expansibility of foaming and make it solid, and it's decided by the panel thickness and production speed. Side belt is overcome horizontal expansion and it's decided by the width of panel and it's also for guiding the panels. As active running mode, double belt laminator can avoid panel deformation and scratch and to ensure panels quality.
Continuous Cutting System
Continuous Cutting System
main function is used to cut the required product. It will cut the product when product's length reaches the setting length in PLC, which measured by measuring encoder without stopping machine. In this way the machine can run continuously during the cutting, and collect the waste foam and dusts at the same time
.
Effective Cooling System
After the chemical reaction, the PU material in the sandwich panel has a high temperature, especially the big thickness sandwich panel, the temperature is higher. In order to ensure the quality of the products, the sandwich panels should be processed in the cooling system.
Automatic Stacking System
Automatic Stacking System is for stacking the panel after cutting and preparing for the next step packing. It can automatically stack the panels one piece by one piece.
Product application of Continuous PU Sandwich Panel Production Line

In order to satisfy various customer requirements, we design and manufacture Continuous PU Sandwich Panel Production Line in different specifications, models and configurations.
Packaging Details
1. Twenty *40GP containers for loading one set of the machine. (It depends on the spec. of the production line.)
2. The whole Wiped Anti Rust Oil, PLC controller covered by foam film;
3. Spare parts and some small parts packed in wooden box;
4. All Components Fixed by steel wire with Container. Suitable for long time sea shipping.
People who viewed this item also viewed